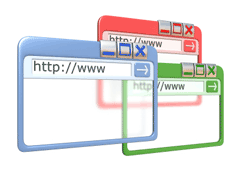 With the growth of the internet, it's essential for your business to have a web presence.  Without a website, you are missing out on a ton of potential business.
"Even if a business doesn't sell online, a website is critical to communicate and market to its customers." — CNBC.com Article, March, 2010
When someone visits your website, you have 15 seconds to impress them.  Visitors need to know that your website is the place to meet their needs and that your website is the answer.
Zadling will provide your business a custom, professional looking design that will grab your customer's attention and provide them with the information that they are seeking.
Services Zadling will provide:
A custom, professional, easy-to-navigate website for your business.
Hassle-free domain name registration.
Website hosting.
Search engine optimization.
Website marketing plan.
Website statistics tracking.
Website conversion tracking.
Website maintenance.
With Zadling, you will not have to worry about how to register a domain name, which hosting company to hire, which designer should design your website, and how to market your website.
With Zadling, we will be able to provide all of these services for your business.  You will get 1 simple quote and you won't have to worry about filling out confusing forms and shuffling through all of the clutter.
Think of Zadling as your one-stop shop to meet all of your website's needs.
Zadling is located in Lehigh Valley, Pennsylvania. I love supporting local business so if your business is located in the Lehigh Valley, I would love the opportunity to meet with you to go over your website's needs. In fact, Entrepreneur Magazine's July 2010 issue recommended using local web design companies to custom develop your website as a means of getting better talent at lower costs rather than trying to handle to project internally within the organization or going with a large corporate entity.